fractional occupancy = [LR] / ( [R] + [LR] ) [Equation 3]
We know from its definition that KD is given by:
KD = ( [L] [R] ) / [LR]
So if we rearrange to get an equation describing [LR] and then substitute this in Equation 3, we get:
fractional occupancy = [L] / ( KD + [L] )
Why are pharmacologists so interested in the fractional occupancy? Well, it makes sense that the effect of a drug should depend on the fraction of receptors that are actually occupied. So the measured effect should depend on the fractional occupancy, which in turn should depend on [L] / ( KD + [L] ). Also, if we have measured the maximum effect (where almost 100% of the receptors are occupied) and we know the fractional occupancy, then we can determine the effect for any given concentration of a ligand. This effect will be given by:
Effect = maximal effect * [L] / ( KD + [L] )
If you sit down and plot a graph of effect versus [L] you'll soon see that we get a simple rectangular hyperbola: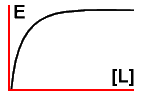 Use graphs to compare drugs
Pharmacologists are never happy with simplicity. No, that's unfair. There's a darn good reason why they often alter the above graph, plotting the log of the ligand concentration on the x axis, and this is because they often need to draw graphs that involve concentrations of ligand that vary by several orders of magnitude. If we draw the graph thus we get a sigmoid curve: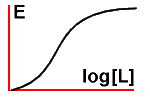 The advantage is that we can now compare different ligands, and even examine the case where we add (for example) a partial agonist to a preparation containing a full agonist.
Let's first compare three drugs, A, B and C: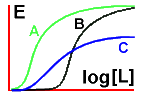 You can see that drug A is more potent than the other two, and that the maximal response for drug C is less than that for the other two - drug C is a partial agonist when compared with drug A or drug B.
Next, let's look at the effect on drug A of adding a competitive antagonist (X) and then a non-competitive antagonist (Y). See how increasing concentrations of drug A can overcome the effect of the competitive antagonist, but not that of the non-competitive one!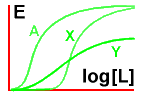 Conclusion
We've attempted to cover receptor basics, but there's lots more. Consult the following references for further information - for example, it's interesting to work out the KD of an antagonist using the Schild regression, and to understand how Saturation Radioligand Assays work!
---
References